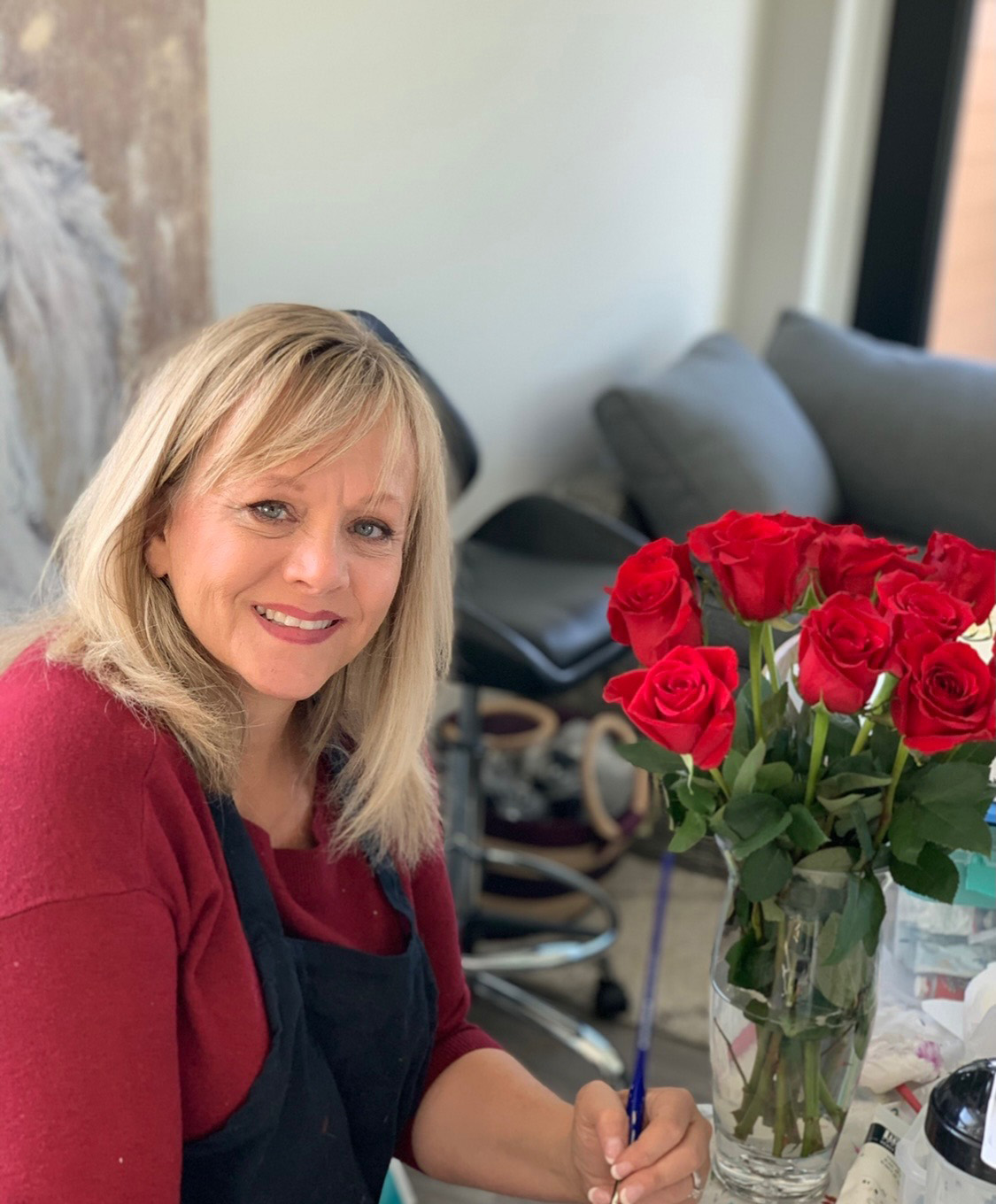 Capturing Life's Beauty: Maralee's Artistic Journey
Maralee is a thriving professional artist, teacher, mentor, and speaker.
Being creative was always a love of hers; however, she didn't always have time for it.  Growing up, she was very fond of art, and was almost always hanging out in the art studios throughout middle and high school.  After getting married, one of her goals was to raise a family.  With five children, she didn't make a lot of time for painting. Later in life though, she brought art back to the surface of her life with more focus when she came upon the online art mentor, Matt Tommey.
Maralee was pondering who she was and what she wanted to do, and she realized she really wanted to become a professional artist.  She wanted to share what she experienced, while exploring the world around her, with people, through her creative gift.  Matt Tommey helped her start towards that journey.
Since then, Maralee has had the opportunity to participate in workshops with master artists at the River Arts District in Asheville, North Carolina, and worked with artists at the Minnetonka Center for the Arts in Minnesota.  She also has collaborated with artists in Scotland and Germany, and created art inspired by trips to northern Italy, and Monet's Garden in Giverny, France.

Maralee's art is inspired by the joy she experiences in the beauty of God's creation while taking hikes through the woods, adventuring in her Jeep, getting out on the lakes, (and once in awhile, on a horse).  When she is out and about, Maralee often takes pictures of those moments.  Her hope is that she can capture the feeling she had in the moment, and bring it back to life on canvas for the viewer to find a place of rest and refreshing.

As she developed her creativity, her art has been awarded the people's choice award for Grand View Lodge's annual wine label competition sponsored by Minnesota Monthly magazine. Her work has been displayed at the Laura H. Miles Gallery at the Minnetonka Center for the Arts, and she was commissioned to produce sketches for one of the versions of the Passion Bible translation.

In addition to creating art, Maralee teaches art workshops and speaks at events. She enjoys teaching groups at Minnesota Adult & Teen Challenge, Hope Kids, Spina Bifida Foundation, and various other organizations.  She loves teaching workshops to help unlock the inner artist in the students she teaches.  In addition to workshops, as a form of visual art, Maralee sometimes paints live, on stage, bringing inspiration and hope to her audiences. Maralee has also served as a mentor for the Creative to Thrive Artist Mentoring Program.

Maralee uses a wide variety of creative mediums;  however, much of her early work was done in acrylic.  With the onset of Covid-19, most workshops were postponed.  Still, she sees it as a blessing in disguise.  During Covid-19, she enrolled, and graduated, from the prestigious Milan Art Institute Mastery Program. The rigorous coursework explored creative mediums with 290 courses.  As a result of working through the program, her work now includes a broad array of mediums including: charcoals, oils, mixed media, inks, and graphic arts.