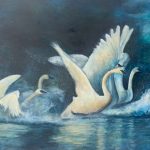 Taking Flight
August 24, 2023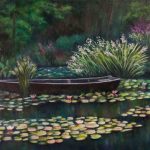 Monet Pond
August 24, 2023
Fierce and Focused
$1,030.00
1 in stock
Description
Oil painting on heavy duty, archival watercolor paper. Fully sealed.
Size: 22×30
Immerse yourself in the world of equine strength and determination with "Fierce and Focused," a remarkable original oil painting by the talented artist Maralee Gazelka. As you gaze upon this artwork, you'll find yourself captivated by the intense and unwavering gaze of a black horse. The artist's masterful use of oil paints brings forth every nuanced detail – from the velvety texture of the horse's coat to the piercing intensity of its eyes.
In "Fierce and Focused," the artist's brushstrokes breathe life into the canvas, conveying not only the physical form of the horse but also the spirit that lies within. The deep, rich tones of the oil medium create a sense of depth and dimension, making the horse appear as though it might step right out of the canvas.
This painting is more than just an image; it's a portal into a world of strength, determination, and the unspoken connection between human and horse. Display "Fierce and Focused" in your living space to infuse it with a touch of equestrian elegance and a reminder of the unwavering focus that propels us forward in the face of challenges.
Elevate your interior with this stunning piece, a testament to Maralee Gazelka's ability to capture the essence of her subjects and invite you to share in their world. "Fierce and Focused" is an investment not only in art but in the stories and emotions that art can tell.
Additional information
| | |
| --- | --- |
| Weight | .226 oz |
| Dimensions | 73.2 × 55.88 × 2.54 in |