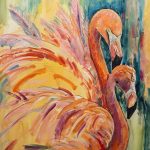 Flamingo Fling
August 25, 2023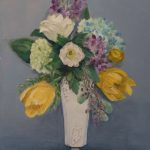 Passion
$360.00
1 in stock
Description
Medium: Acrylic painting on heavy duty, archival watercolor paper. Fully sealed.
Canvas Size: 20×16 inches (Framed)
"Passion" exudes the vibrant energy of blooming flowers in a delicate vase. Maralee Gazelka's acrylic strokes infuse this 20×16 inch canvas with a burst of color and life. The choice of a framed presentation enhances the artwork's elegance, framing the floral composition with sophistication. Each brushstroke captures the essence of the blossoms, evoking the sense of awe and wonder inspired by nature's creations. "Passion" is a testament to the artist's ability to convey the beauty and vitality of the natural world through the dynamic interplay of color and form.