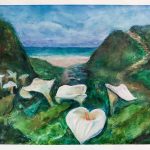 Secret Lily Valley Walk
August 25, 2023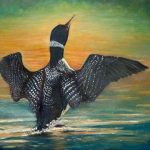 Loon's Greeting Call
August 25, 2023
Brilliance
$360.00
1 in stock
Description
Medium: Acrylic painting on heavy duty, archival watercolor paper. Fully sealed.
Canvas Size: 16×20 inches
"Brilliance" showcases the resplendent beauty of bright pink and red flowers nestled within a white vase. Maralee Gazelka's acrylic strokes capture the vivid hues and delicate forms of the blossoms, infusing this 16×20 inch canvas with a sense of vitality and charm. The interplay of colors and textures creates a sense of depth and dimension, allowing the flowers to emerge as the vibrant focal point of your space. "Brilliance" is a celebration of nature's elegance and the artist's ability to transform the ordinary into the extraordinary.