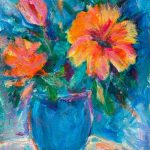 Tropical Beauty Hibiscus
August 25, 2023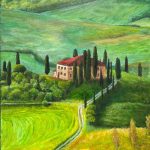 Italian Villa
August 25, 2023
Singing Palm
$205.00
1 in stock
Description
Medium: Acrylic/Mixed Media painting on heavy duty, archival watercolor paper. Fully sealed.
Canvas Size: 11×15 inches
Description: "Singing Palm" is a burst of abstract color and energy, capturing the essence of a palm tree's vibrant dance. Maralee Gazelka's acrylic and mixed media techniques create a symphony of hues – yellows, reds, oranges, pinks, greens, and purples – intertwining to evoke the rhythm of the tropics. This 11×15 inch canvas radiates joy and vivacity, inviting you to revel in the lively spirit of nature's harmonious creations.