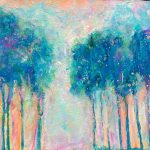 The Avenue Burst Delight
August 25, 2023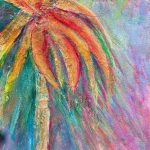 Singing Palm
August 25, 2023
Tropical Beauty Hibiscus
$205.00
1 in stock
Description
Medium: Acrylic painting on heavy duty, archival watercolor paper. Fully sealed.
Canvas Size: 11×15 inches
Description: "Tropical Beauty Hibiscus" transports you to a lush paradise where vibrant hibiscus flowers bloom in a radiant symphony of color. Maralee Gazelka's acrylic strokes bring forth the beauty and vitality of these tropical wonders, infusing this 11×15 inch canvas with the essence of exotic beauty. The bold hues and intricate detailing capture the intricate layers of the hibiscus petals, evoking the warmth and allure of distant shores. Bring the spirit of the tropics into your space with this captivating artwork.